Berkeley Diary
Masaki YAMAOKA
---
Jun/29/2005 Major League Baseball
<![if !vml]>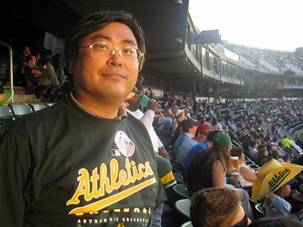 <![endif]> 
Watching a game with a birthday present sweatshirt from USA friends
at McAfee Coliseum on Jun 29th
Today is my birthday. I am 43 years old. Instead of my family, UCB students, George, Nanci, and other members celebrated with me like my family. After we had dinner in a Taiwanese restaurant in Downtown Berkeley, we went by BART to watch a baseball game at the McAfee Coliseum in Oakland City.

According to a website, the Coliseum was constructed for the Oakland Raiders (an American Football team in the NFL) in 1966 by Oakland City and Alameda County. In 1968, the Athletics (a Major League Baseball team in the American League) moved to the Coliseum from Kansas City. The Coliseum is convertible for baseball and football. And next to it, there is an Arena for the Golden State Warriors (a Basketball team in the NBA). This area is a Mecca for American popular sports.

McAfee Coliseum, a kind of megastructure, can accommodate as many as 44000 spectators. Since this April, McAfee, the computer software company, got the naming rights, to call it McAfee Coliseum.

Today's game was the Oakland Athletics versus the Seattle Mariners. Even though today is Wednesday, over 20000 spectators came to the Coliseum. Most of them cheer the Athletics eagerly. Ichiro, Japanese most famous and maybe most superior baseball player, belongs to the Seattle Mariners. Japanese fans who wanted to see Ichiro, came to the Coliseum.

Since I saw Ichiro, who belonged to the Olix Blue Wave (a Japanese Professional Baseball team in the Pacific league), at the Tokyo Dome in 1996, today I saw Ichiro whom I have not seen for 9 years. He didn't make any hits at all today, but I am glad to see him in USA, the home of baseball.

The Athletics won the game by a score of 6 to 2. The many spectators gave a shout of joy and big applause to the Athletics. In Japan, the professional baseball teams had the name of the senior company except for the Yokohama Bay Stars (a Japanese Professional Baseball team in the Central league). In USA, every MLB team has the name of the hometown instead of the name of the senior company. Then the MLB team is a source of pride for the people in the hometown.

On my birthday in USA, I was excited by the big stadium, many spectators, and loud cheers, so I had an impression of big American culture. I will never forget today's big event.

---
To: Soka University HP (English)
To: Masaki YAMAOKA's Home Page

<![if !supportLineBreakNewLine]>
<![endif]>